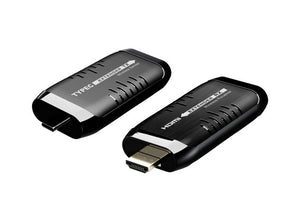 weJupit Multimedia Wireless USB Type C to HDMI Extender Kit Up To 15m, Transmitter & Receiver for HD 1080P PC to TV-Projector Streaming for Conference Room and Educational Applications, Home Entertain
【HD wireless transmission from Type-C To HDMI】: supports wireless transmission of picture/presentation/video/audio from a USB Type-C device, eg. a laptop or tablet, to an HDMI display apparatus, such as smart TV or projector, resolution up to 1080P@60Hz, ideal for conference, home entertainment and multimedia education.

【No Lagging and Anti-interference】: operates at frequency 5GHz with strong anti-interference ability, supports point-to-point connection, allows transmission distance up to 45 feet (15 meters), ideal for streaming video and audio from YouTube TV, Netflix, Hulu TV, Amazon Prime and other media streaming devices.

【Plug and Play】: just plug the mini transmitter into USB Type-C device and the receiver into the display apparatus to play, no need to wire or connect wifi, no need to install any driver or software, no need to use other power charger.

【USA Technical Support】Customer Support is available via email from our home office in Houston, TX. We offer a one year warranty for all our products.
Perfect for office meetings, business conferences, and educational presentations.

Allows to transmit and Convert your PC's USB/Thunderbolt 3 Type-C port up to 15 meters long away wirelessly. Resolution up to 1080P@60Hz. It can be powered from any USB port on the HDTV or projector and up to 15 meters (clear line of site). 
The transmitter is self-powered through a USB Type-C port which converts to wireless HDMI. Because, the receiver is also a small . Therefore, it is ideal for conference room meetings, home theater and educational equipped classrooms. The WJEXT15-2 transmits video and audio in real-time, from any HDMI source. 
Watch TV while you work on your PC.  Simply plug in the HDMI receiver to your TV and the sender to your USB Type-C laptop or PC… Entertain others while keeping up on social media sites. Also, the receiver features an HDMI-Out connector and the sender features a USB Type-C connector. 
Wirelessly Stream Video & Audio (YouTube TV, Netflix, Hulu TV, Amazon Prime and others) to your HD TV/Projector. Use your cable subscription on line streaming to stream all your channels without having to rent another set top box.
Just "plug 'n play" NO extensive set up, NO software installation. NO WIFI network to setup and NO messy cables. Best portable and mobile solution for Notebooks/Laptops and or any mobile device with USB Type C (Alt Mode).
USB Type C, self-powered (Note: Receiver must be external powered with included USB cable.)
1, Wirelessly share HD content from a USB-C laptop or tablet to a TV/display
2, Eliminate the need and expense of running unsightly HDMI cables
3, Connect temporary or permanent sources and a TV/display without wires
4, Mirror or extend content to a larger screen for effortless viewing
5, Reaches and in-room wireless range of up to 15 meters .
*This device will work on any video source output with an Alternate Mode-supported USB-C port