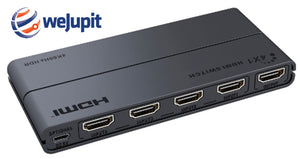 HDMI Switch 4K 60Hz, weJupit 4X 1 HDMI 2.0 Switcher with IR Remote Control, HDR, Support up to 4K×2K@60Hz UHD to an HDTV Display, Compatible for PS3-PS4, Xbox 360-One, HDTV, Blu-Ray Player
【4 in & 1 out HDMI Switch】This device can connect up to 4 HDMI source components to one HDMI port TV/HD TV/ monitor or projector and support seamless transitions between PC, gaming, television, DVD, etc without losing signals.

【Ultra 4K 60Hz RGB Display】It supports up to 4K x 2K @60Hz and support HDR, color display format RGB (YUV4:4:4), compatible with 3D. Resolution support from 480i/480p/576i/576p/720p/1080i/1080p to 4k@24/30/60Hz. It supports video output broadband 18Gbps/600MHZ (For 4K@60Hz, standard HDMI 2.0 18Gbps AW28 cable is needed and the TV output resolution should be 4K).

【High Compatibility】It works with multiple HDMI integrated devices such as: Blu ray player, DVD , Roku, TV Box, Xbox, PS3/PS4, Fire TV stick, and also compatible with HDMI 1.4 and 1.3 devices. It supports compressed audio DTS and Dolby(DTS-HD and DOLBY).

【Easy Switch】manually press the selector button"SWITCH" on the units to change inputs. It also supports remote control to switch signal between 4 HDMI input devices connected to your TV or monitor.

【PLUG-N-PLAY】 Designed for simple use, no hardware, software, or WiFi connection is needed.
This weJupit 4×1 switch routes 4 different sources at a resolution up to 4K×2K@60Hz UHD to an HDTV display. The unit has 4 HDMI inputs, which makes this unit ideal for simultaneous connection of multiple HDMI devices, such as HDTV, STB, DVD etc. to a single display. In addition, this unit comes with an infrared remote control to select inputs, thus it is easy and flexible to control the input signal as needed.  
Features
1. Switches easily between any 4 HDMIsources
2. Resolution supported up to ultra HD 4K×2K@60Hz
3. Maximum bandwidth up to 18Gbps
4. Supports HDMI 3D
5. Supports IR control
6. Supports HDR
7. Supports CEC
8. Plug and play, easy to use 
Accessories :
HDMI switch x1pcs
Micro-USB power adapter x1pcs
remote control x1pcs
User manual x1pcs